December & January travel guide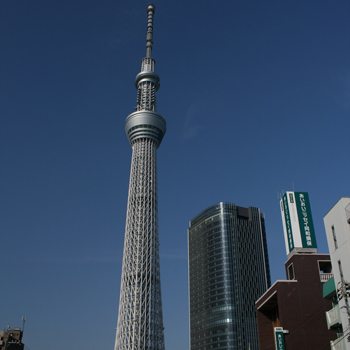 Tokyo Skytree
It was greatly taken up before completion in various mass media by the best building in Japan, the big topicality called the, besides, world's best communications tower.It becomes new famous place "of" Tokyo from all over the construction period partly because the special program that collected data on the Sky Tree under construction came to be occasionally broadcasted on TV, and the outskirts are crowded with a person and the sightseers who photograph a tower if it is with the holiday.
(I extract it from wikipedia)
・It is one station from Asakusa Station(Tokyo Sky Tree line)Two minutes or about 15minute walk
・It is Asakusa Station(Tobu Sky Tree line) transfer approximately 14 minutes from Ueno Station(Tokyo Metro Ginza Line)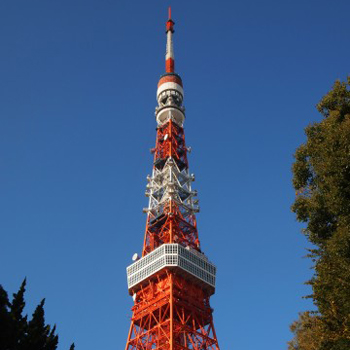 Tokyo Tower
A tourist attraction on behalf of Japan. The official name is Nippon Television City(Nippondenpatou).
A completion type was held on completion, December 23, the same year on October 14, 1958.I am known as a symbol, a tourist attraction of Tokyo.
In addition, even the movies are used a lot.
(I extract it from wikipedia)
・Akabanebashi Station(Ooedo Line) Akabane Hashiguchi 5minute walk
・Kamiyacho Station(Hibiya Line) First exit 7minute walk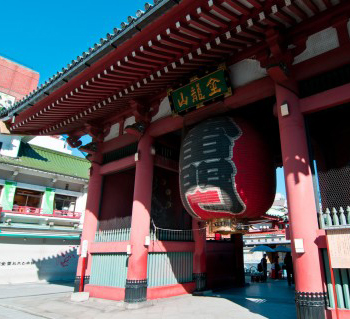 Senso-ji Temple
It is the oldest temple in Tokyo at 2, Asakusa, Taitou-ku, Tokyo.Because you assume the Goddess of Mercy a principal idol, leave with "the Asakusa Kannon" or "the Kannon of Asakusa" under an alias,It is got close widely.
Omotesando to Hozo-mon Gate is called "shops lining a passageway" from Kaminari-mon Gate,On both sides a souvenir,Stores selling cakes stand,The store on the east side 54 stores,I count 35 in the west.
(I extract it from wikipedia)
・Asakusa Station(Tobu Sky Tree line) 5minute walk
・Asakusa Station(Tokyo Metro Ginza Line) 5minute walk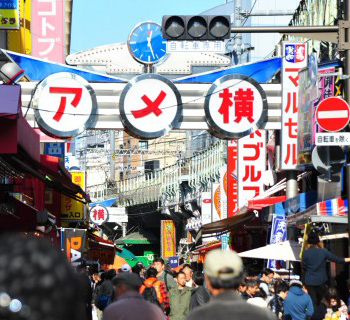 Ameya Yokocho
late years,food(It is fishery products and dried foods mainly),clothes,sundries,Shops such as the jewelry concentrate on every type of industry.
It is crowded with people buying perishables for New Year holidays at the end of the year in particular,It usually presents aspects as the place of around ten minutes needs dozens of minutes on foot from tip to toe at this time of the malls.
When the end of the year approaches, many shops come to handle food for New Year holidays,The street greatly changes that the clothing stores close a shop and rent a room.
(I extract it from wikipedia)
・Ueno Station(JR Yamanote Line) shiranuiguchi 1minute walk
・Ueno Station(Tokyo Metro Ginza Line) The seventh exit 2minute walk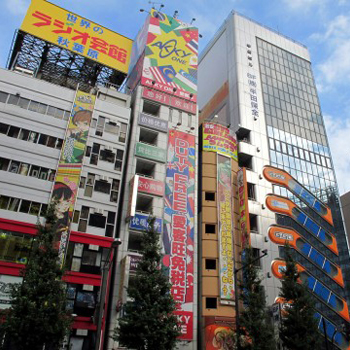 Akihabara electronics quarter
The household appliance general merchandising store which developed from store and there of the junk product was a central electronics quarter at first,A specialty store handling a record and a CD in a music boom after rapid economic growth as a background links the eaves,A game shop propered with the arrival of the electronic game boom afterwards.When this electronic game boom gets into full swing A hobby shop and the animated cartoon shops which aimed at demand to like a virtual space came to stand.In late years many compound buildings are built around Akihabara Station by urban redevelopment,The class of coming age, visitors comes to vary.
(I extract it from wikipedia)
・It is approximately five minutes from Tokyo Station to Akihabara Station
・It is approximately five minutes from Ueno Station to Akihabara Station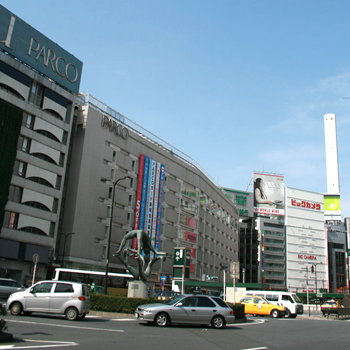 Ikebukuro
Ikebukuro is Shinjuku, one of 3 hilly section vice-minister downtown areas with Shibuya.A huge department store and specialty store, a restaurant are located around Ikebukuro Station.Downtown spreads out in the Ikebukuro Station west exit and east exit station square,North exit and east exit sunshine street back,There is a large-scale entertainment district in the Meiji Dori north side whole area.
(I extract it from wikipedia)
・From Ueno Station (JR Yamanote Line inner circle Ikebukuro, the Shinjuku area) Approximately 16 minutes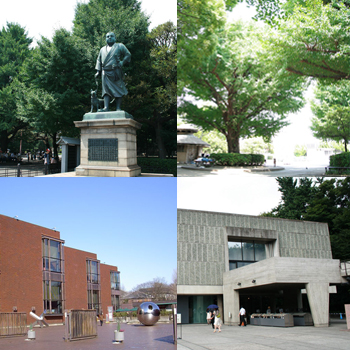 Ueno onshi Park
Tokyo Natl. Museum,Natl. Museum of Western Arts,National Science Museum,Ueno Zoological Gardensなどの culture facilities are concentrated and are located.In addition, it is known even that there is the Takamori Saigou image of the sculptor Koun Takamura product.
Shinobigaoka which becomes the hill,It is famous as a famous place of the cherry tree from the early modern times,It is chosen in 100 selections of Japanese cherry tree famous places.(I extract it from wikipedia)
・JR subway Ginza Line・Hibiya Line「Ueno Station」A 2-minute walk from getting off
・Ooedo Line「Ueno-Okachimachi Station」A 5-minute walk from getting off